MANAGING STAKEHOLDERS
Learn how to manage stakeholders and ensure maximization of shareholder's value for the benefit of theirs as well as your business. On successful course completion, get certified from GlobalGyan
Self-paced Interactive Content
In-Lesson Interactive Exercises
As a young professional your success is driven by your ability to satisfy and engage your boss and your customer. In addition, ability to collaborate and garner support from members in the team, be they peers or people reporting into you is critical to being able to perform your role effectively, and also enjoy your work. This course brings to you the basic principles of understanding these stakeholders, and teaches you approaches and techniques you need to ensure harmonious and successful working with all of these stakeholders.
Understand Customer Lifetime Value
1. The Crucial Stakeholder- The Customer
2. Case of the Long Lasting Customer
3. Power of Customer Lifetime Value
4. Understanding Customer Lifetime Value
5. Concept of the Leaky Bucket
6. Cost of Acquisition
7. The Pyramid of Customer Value
Customer Relationship Management
1. Case Study: Food Express
2. Understanding Customer Relationship Management
3. Why Customer Relationships Matter?
Communicating Effectively With Customers
1. Introduction
2. Significance of Good Communication
3. Fundamentals of Business Communication
4. Email Interaction
Mediums to Communicate with Customers
1. Face to Face Conversations
2. Phone Conversation
3. Case Study 1: At The Restaurant
4. Case Study 2: The Salesman
5. Communicating With Customer
Complaint Management
1. Introduction
2. Complaints are Gifts
3. Why Do Customers Complain?
4. Managing Negative Emotions of Customers
5. Case Study: Luxury Apartment
Know Your Relationship with Authority
1. Introduction
2. How You See Your Boss
3. Role of Boss in Your Career Progression
4. Boss: Your Strategic Partner
Define Relationship with Your Boss
1. Framework to Decode your relationship with Authority
2. Know How you see the Authority
Understand Leadership Style of Boss
1. Thoughts, Feelings and Action Framework
2. Identufy Your Boss's Leadershio Style
3. Direct Your Controlling Style
4. Supporting Style
5. Coach Style
6. Delegating Style
Gagandeep Singh
MBA from IIM-Ahmedabad; Fellow, Sumedhas Academy of Human Context
Consultant on Leadership, Alignment, Culture & Organizational Transformation
Visiting Faculty at leading b-schools
Usha Rangarajan
Leadership & Transformation Consultant
Over 30 years experience across functions and industries
Focus on design, management and improvement of Customer Experience
Learn about Customer Lifetime Value and its power
Discover the concept of Leaky Bucket, Customer Acquisition Cost and the pyramid of Customer Value
Understand Customer Experience Journey and Touch Points
Understand why Customer Experiences Matter
What is Customer Relationship Management and why does it matter
Learn the significance and fundamentals of Effective Communication with Customer
Discover the fundamentals of Email Interaction, Face to Face and Phone Conversations
Grasp how to Manage Customer Complaints
Learn how to see your Boss as your Strategic Partner and his role in your career progression
Discover the framework to Decode your Relationship with Authority
Discover Your Boss's Leadership Style and Direct Your Controlling Style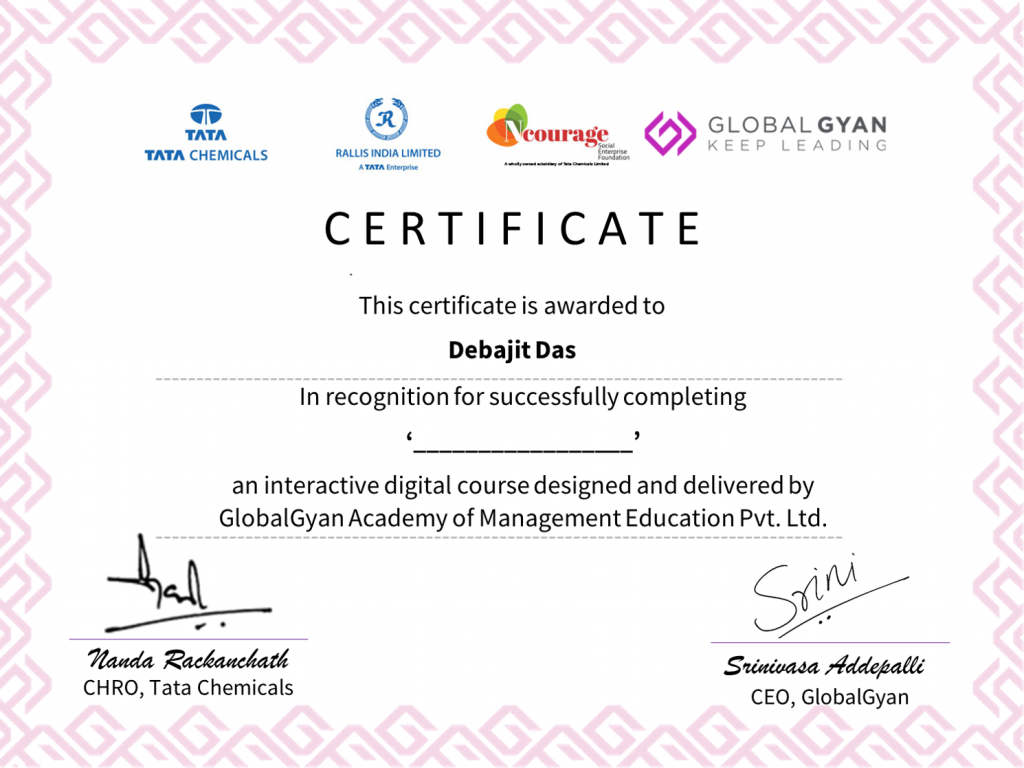 4000 +Learners from Top Corporates